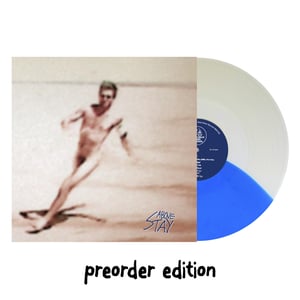 €

15.00
Blue/clear half'n'half /108. Each copy is handnumbered and stamped.
Shipping now!
This is second full length by Copenhagen 'alt punk' band Molly.
14 tracks of uncompromising late 80's inspired alt punk that you just don't hear anymore. Maybe because no one can shred and yearn like Bob Mould, or maybe because it just went out of style. Whatever the reasons are this is the sound that has been missing in the 21st century. Big words. Listen for yourself.
"Molly specialize in power-pop of the Hüsker Dü and Dinosaur Jr variety: dark, bittersweet and pensive, but ultimately, totally ripping. Based in Copenhagen, Denmark, the band's latest LP is Stay Above, a collection of 14 tracks that stay in the redline with riffs while never losing their melodic edge. The first single is "All About," a sugary sweet number that could make you bop around or cry softly to yourself, depending on your mood." - CLRVYNT
FFO: Hüsker Dü, Dinosaur Jr, Nirvana, Jawbreaker, Minutemen, SST.
There is a nice in lyric sheet too!
Bandcamp:
neverbackdownrecords.bandcamp.com
NBD ON FACEBOOK:
www.facebook.com/neverbackdownrecords
Make sure your paypal address is displayed correctly!