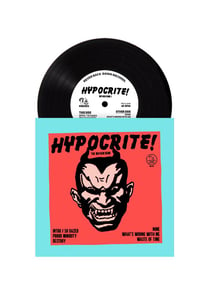 €

6.00 - On Sale
***THIS IS A PREORDER - Shipping around March 15th 2018 ***
Hypocrite is a new K-town band with members from Stop And Think (Boston), Coke Bust, Government Warning, The Dedication, Sex Positions etc.
Two Danes and two Americans residing in Copenhagen playing uncompromising hard punk with a filthy raw sound - the way you want your demo to be.
Bands like Boston Strangler, 86 Mentality, Alone In A Crowd, Negative Approach and Iron Boots come to mind.
Pressing info: all black vinyl.
Preorder version /30
Record release (altered sleeve) /45
Regular version /192
Band/label copies /5 (each with different b-side labels)
Record release show on March 12th in Copenhagen with the mighty Burn. Facebook event:
https://www.facebook.com/events/1134187083385607/
Jonas : Bemused shouting
Matti : Drums
Matt : Bass
Rich P : Axe
Artwork by Rich Perusi
ABOUT SHIPPING:
Shipping quotes are the cheapest available in Denmark.
If you want to order more than 5 copies get at me at neverbackdownrecords@gmail.com